Accelerate core applications and provide a modern data experience. Pure Storage®FlashArray™//X, the world's first 100% all-flash end-to-end NVMe and NVMe-oFarray, now optionally includes a storage-class memory boost to address the most demanding enterprise applications performance requirements. FlashArray//X supports a modern data experience, delivering major breakthroughs in speed, simplicity, flexibility, and consolidation. It's intended for everything from departmental to large-scale enterprise shared-storage deployments, high performance, and mission-critical applications.
Maximize results and flexibility for enterprise and cloud-native, web-scale applications, both on-premises and easily connected to the public cloud. Pure's Evergreen™ model means performance, capacity, and features improve over time without disruption. In a world of fast, pervasive networking, ubiquitous flash memory, and an evolving scale-out application architecture, modern approaches to data management have the power to unite both networked and direct-attached storage in a single, shared architecture.
ACCELERATE CRITICAL APPLICATIONS
For entry level to enterprise applications, accelerate business results with your most critical applications, 100% NVMe portfolio and optional storage-class memory (SCM), powered by Intel Optane, power your demanding databases, including SAP Hana, Oracle, SQL Server and DAS Apps

MANAGE ALL YOUR DATA, SEAMLESSLY
Purity for FlashArray//X deliver the power of a modern data experience, with rich data services, global flash management, and fabric support. With regular continuous innovation, it always gets better in an EvergreenTM fashion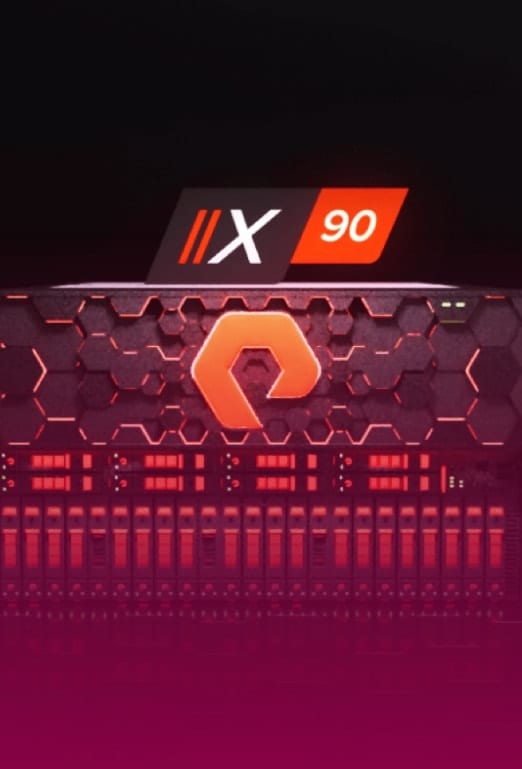 PROTECT DATA EVERYWHERE
It's time to modernize your data protection. Purity Snapshots and CloudSnapTM deliver data portability for FlashArray//X to secondary FlashArray, to FlashBlade, or NFS targets for replication, tiering, or to AWS or Microsoft Azure cloud for off-prem backup. Best of all? It's included at no extra cost and easy to deploy

100% NVME, 100% SOFTWARE-DRIVEN ALL FLASH ARRAY
Storage that leverages NVMe and flash enables unprecedented performance and capacity density in an all-flash array for entry level to mainstream enterprise environments and next-gen cloud-native applications.

ACCELERATE TIER 0 APPLICATIONS
Get a cache boost for SAP Hana, Oracle, and SQL Server—all your business-critical apps. Pure DirectMemory with Intel Optane delivers up to 50% reduction in latency. It's as simple as plugging in a DirectMemory Module—no configuration or tuning required.

GET EFFORTLESS FLASH STORAGE SOFTWARE
Purity//FA is the software-defined heart of FlashArray//X. Get the performance, resilience, and industry leading efficiency from the award-winning FlashArray's operating environment, which gets even better over time with an Evergreen subscription to innovation.
Experience scale-out storage for modern data.

FAST
Performance that scales with data
Always fast, from small to large files
Massively parallel architecture from software to flash
BIG
Petabytes of capacity
Elastic concurrency, up to tens of thousands of clients
Tens of billions of objects and files
SIMPLE
Pure Evergreen™ means you don't have to re-buy terabytes you already own
"Tuned for Everything" design eliminates the need for manual optimizations
Scale-out everything instantly simply by adding blades
Data is your organization's most valuable asset, but slow and complex legacy storage systems often make it hard to put it to use. Pure Storage® FlashBlade® is the industry's most advanced file and object storage platform ever. It's a platform built to consolidate data silos so you can accelerate discoveries and insights. There are two types of storage systems: one optimized to store data, the other optimized to deliver it. One is engineered with legacy technologies, like spinning disk or retrofit software. The other is modern, architected from the ground up to be massively parallel, thus eliminating serial bottlenecks. This modern storage is FlashBlade® from Pure Storage.

From artificial intelligence to analytics, data is at the center of today's innovation. Legacy infrastructures often prevent data from moving at the speed of your business. FlashBlade is the industry's most advanced scale-out storage, architected to accelerate modern workloads and simplify infrastructure.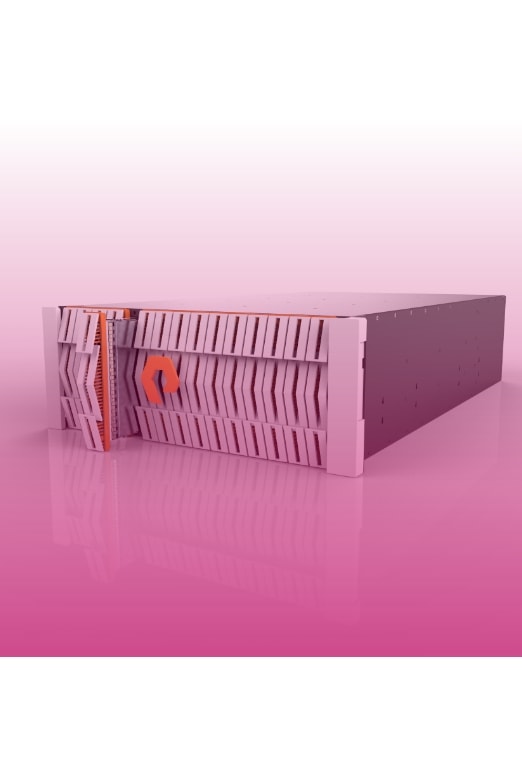 POWERED BY INDUSTRY FIRSTS
Blade:
Compute and network are integrated with Pure DirectFlash™. Hot-plug blades into the system to add capacity and performance.
Purity//FB:
FlashBlade's heart is architected on a massively distributed key-value pair database for limitless scale and performance with simplicity.
Elastic Fabric:
Powered by an innovative converged fabric, FlashBlade delivers up to 1.5Tb/s aggregate bandwidth with 75 blades.
Pure Storage® FlashArrayTM//C lets you consolidate workloads and simplify storage with consistent all-flash performance at a lower TCO than hybrid storage.

Most business-critical applications today run on high-performance all-flash storage arrays, but capacity-oriented applications still suffer from management complexity, inconsistent performance, and lack of modern data services of hybrid flash and legacy disk systems. FlashArray//C provides a 100% NVMe all-flash foundation for capacity-oriented applications, test and development workloads, multi-site disaster recovery, and data protection at hybrid storage economics. Scale up to 5.2PB effective storage in just three- to nine-rack units. Maximize results and flexibility for high-capacity applications on-premises and easily connect to the cloud. With Pure Evergreen™, you can upgrade performance, capacity, and features over time without disruption.

All-flash storage solutions introduced simplicity, efficiency and rich data services to performance-sensitive enterprise applications. It's time capacity-oriented applications see these indispensable benefits as well. With the introduction of FlashArray//C, Pure Storage is bridging the divide between performance-optimized and capacity-optimized applications. FlashArray//C is capacity-optimized and extends the Modern Data Experience™ to all applications.

THE TOP FOUR USE CASES FOR PURE FLASHARRAY//C ARE:
Workload consolidation.
Data protection and disaster recovery.
Policy-based VM-tiering.
Multi-cloud test/dev.
HYPER-CONSOLIDATE LARGE DATA STORES
Pure FlashArray//C densities scale from 1.3PB to 5.2PB in a tiny three- to nine-rack unit array and deliver consistent performance that comes with an all-flash 100% NVMe storage solution. You can now consolidate test/dev, non-critical virtual machines, data-retention/disaster recovery, and all other capacity-optimized applications on a single array. Let your IT organization drive simplicity into the infrastructure and eliminate complex siloed approaches to deploying these applications across multiple disparate hybrid disk-based solutions.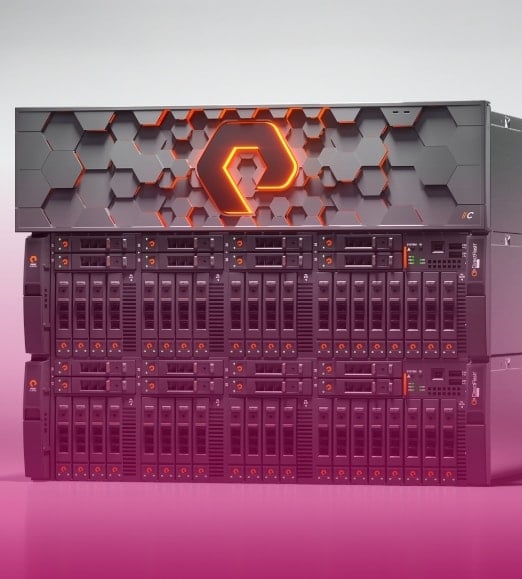 SIMPLICITY BY DESIGN
FlashArray//C has the power to simplify everything: The hardware, software, and cloud management experiences are co-designed to make everything work.

CLOUD-BASED MANAGEMENT
The Pure1® platform provides simple cloud-based management and effortless predictive support with full-stack analytics and the AI-driven power of Pure1 Meta™. Pure1 provides a snapshot catalog of all your backups in one place, whether the target is another FlashArray, FlashBlade™, another NFS target, or a public cloud like Amazon S3.

PURITY: THE SOFTWARE-DEFINED HEART OF FLASHARRAY
Purity for FlashArray delivers rich, enterprise data services, DirectFlash™ global flash management, and Evergreen™ improvements with every release. ActiveCluster™ for business continuity and disaster recovery, QoS, vVols, NVMe-oF, Snap to NFS, Purity CloudSnap™, and EncryptReduce are all examples of new features provided with non-disruptive Purity upgrades. With every array, you get built-in Purity storage services, APIs, and advanced data services**.